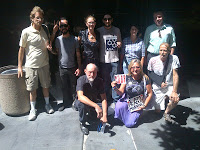 By Terrie Best, San Diego Americans for Safe Access Court Support Coordinator
July 30, 2013
San Diego, CA – In a weird and wholly inappropriate display of rage today in the downtown courthouse, Judge Peter Gallagher ranted at defendant Victor Marion for choosing to have medical cannabis supporters in the courtroom for his sentencing, leaving the defendant in tears as he was hand-cuffed and taken into custody to serve an eight month sentence.
The supporters witnessing the display were members of the advocacy groups San Diego Americans for Safe Access (SDASA) and The Human Solution, two agencies who routinely provide oversight to courtroom proceedings in medical cannabis cases as is certainly their right and duty.  Said, Marcus Boyd, Vice Chair of SDASA, "When the DA's office runs far afield of representing the will of the People it serves and fails in that, citizens must watch and then redress them."
SDASA serves as a watchdog for justice in medical cannabis cases and today Judge Gallagher sent a message to all who have the audacity to call the DA's office with grievances: Try to be heard and you risk arrest.
The rant from Gallagher was in response to a Citizen Call to Action made some months ago in which a request was put out to call Deputy District Attorney and Victor Marion's prosecutor, Cari Elizabeth Philpott and remind her she is a public servant of the people, beholden to those people and request she drop charges against Victor.
Philpott represented the calls from her office's constituents as "harassment" and Judge Gallagher shouted down advocates as they filed out of the courtroom saying "If there are anymore attempts to contact the prosecutor, they will be met with arrest and prosecution.
Earlier in his pre-sentencing statements Gallagher tipped his hand to his extreme bias against medical cannabis patients with the following diatribe "Medical Marijuana is not a good business plan, 22 year old kids are getting doctor's recommendations for toe fungus and frying their brains on marijuana." Gallagher also erroneously insisted that federal law trumps state law on the issue of medical marijuana by way of the "Supremacy Clause" in the US Constitution.
Victor Marion was found guilty by Gallagher at bench trial earlier this year for manufacturing concentrated cannabis.  His attorney Lance Rogers will appeal the verdict and file a motion to release Victor on bail while his appeal is pending.
Im response to the medical cannabis community's advocacy on display at the courthouse today local attorney Logan Fairfax said, "The District Attorney's Office has made these medical cannabis cases high profile, San Diego Americans for Safe Access is simply responding in-kind and are within their rights to stand up on behalf of those they support."
When public officials threaten the public they serve for wanting to be heard and then misrepresent public outcry as harassment, it is time to demand a voice.  Please email the DA's office at publicaffairs@sdcda.org and request that Bonnie Dumanis stop prosecuting legal medical cannabis patients and stop misrepresenting public feedback as harassment.