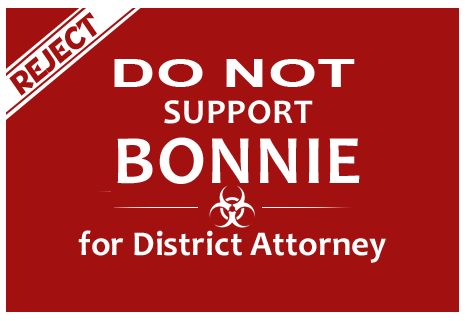 San Diego Chapter of Americans for Safe Access (ASA) launches NotDumanis.com website to draw public attention to District Attorney Bonnie Dumanis' fierce fight against medical marijuana patients as well as her many other failures in office.
SAN DIEGO, CA – In her service as San Diego County District Attorney, Bonnie Dumanis has undermined the most vulnerable members of our community through a fierce and misguided campaign against legitimate patients who use cannabis therapeutics to treat serious conditions.
Dumanis' anti-cannabis campaign has included close partnerships with federal authorities to execute raids on sick and dying patients' homes and collective gardens as well as vindictive prosecutions of those patients in state court. Over the years, many of these prosecutions have resulted in acquittals.
In addition to raids and prosecutions of legitimate patients, Dumanis has actively lobbied local elected officials behind the scenes against adopting any regulations that would provide clarity. In fact, she actively supported and encouraged federal agents to attend local City Council meetings and intimidate elected officials against adopting ordinances allowing for safe access.
While waging her campaign against patients, Dumanis continues to publicly claim she supports medical cannabis and only prosecutes drug dealers. For years patients and stakeholders in the medical marijuana community have asked to sit down with Dumanis and discuss these issues. Unfortunately, for just as long Dumanis has refused to meet.
As recently as this week, San Diego ASA asked Dumanis about her purported support at a local debate only to be told that she once again does not want to talk about the issue.
Over the last twelve years, Bonnie Dumanis has successfully transformed the District Attorney's office from a department designed to uphold state law, to one dedicated to enforcing her own political views. Her actions and track record have been crystal clear; Dumanis is the biggest opponent to legitimate patients in San Diego County and if re-elected has vowed to do nothing to change the status quo.
The time has come for her reign as District Attorney to end and for honor, respect, and responsibility to be brought back to the office of County District Attorney.
The Alliance for Responsible Medicinal Access, a medical cannabis trade association recently endorsed Bob Brewer for District Attorney and has encouraged all medical cannabis patients on Tuesday, June 3rd 2014 to vote for him as the county's next DA. Just this year alone Brewer has attended several ASA patient meetings and met with multiple stakeholders to discuss their concerns. He pledged to develop local guidelines providing clarity to patients on the issue, and maintains that if elected, not only would he depoliticize the office, but that he would ensure state law and local regulations are upheld so legitimate patients have safe access.
On June 3, 2014 the San Diego Chapter of Americans for Safe Access urges you to go to your local polling place and NOT vote for Bonnie Dumanis.
To find out more about the Not Dumanis effort visit:
www.NotDumanis.com
www.Facebook.com/NotDumanis2014
www.Twitter.com/NotDumanis
This week's SD ASA Interview of Dumanis on Medical Marijuana: